Are you ready to open your own massage practice? In this article, I'll share some things to consider when opening your own massage business. When looking at location, you've probably already started a business plan and started researching massage prices and how much to charge.
And in that, there are some bullet points that you'd want to answer for your massage business:
What type of massages will you offer? What is your ideal class size? These questions will determine what size your massage business needs to be. In addition to figuring out your class size, also think about your target audience.
Target Audience
The biggest thing to consider is who is your target audience and where do they live? If you've lived in your town for a while, you'll get an idea of who you want to target and where they might live.
Do you want to serve stay at home moms who want to stay in shape after they drop their kids off at school? Or maybe the hipsters looking to strengthen their core and want to go to class after they get off work at night. Maybe you want to focus on the empty nesters who've decided to meet after a massage to go have coffee somewhere to catch up on everything.
Depending on who you want to serve, you'll start looking for buildings in these areas.
Many look to open a spot near a bustling neighborhood that will make it easier for their clients to find them.
There have been several studies done on just how long someone will travel to a local business. For yoga studios and massage, most people won't travel more than 12 minutes to get to your business. Make sure that you find a spot as close as possible to them.
Interesting side note, if you're targeting women, then they will drive 3 minutes longer to go to a massage business. So for women, you're looking at max travel time of 15 minutes.
The folks at Brightlocal put this great infographic together on distances.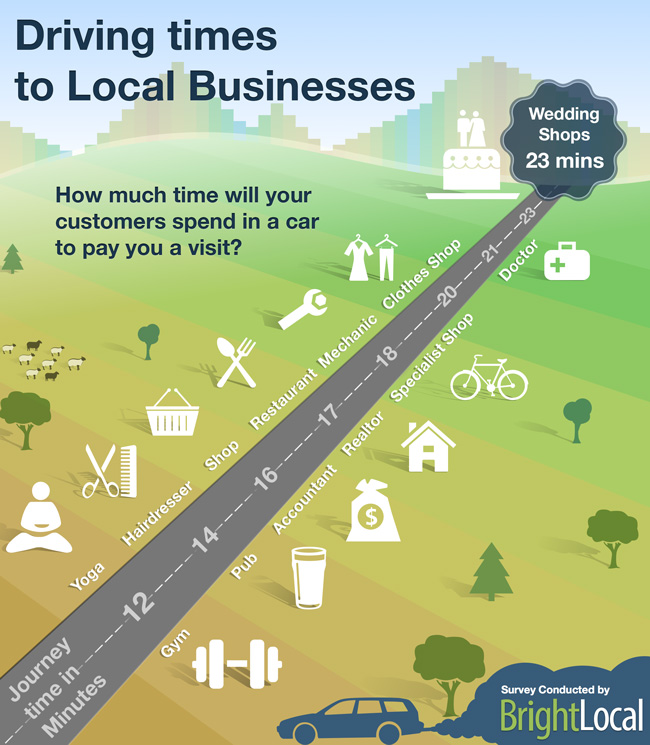 But once you know the area that you want to open your studio, you still have a few other items to make sure you have on your checklist:
Parking
Parking is super important. Is there enough parking for a whole class. Thinking about parking in our downtown area, I'd never open a massage business in our downtown simply because the parking is horrible. Too many people would leave frustrated after trying to find a parking spot.
There's plenty of parking for the whole class. It's also close enough for many to ride their bikes.
Square Footage
When you create your business plan, you'll know more about the details, but you'll want to figure out an ideal square footage you'll need to keep your massage practice in business. Ideally, you want 30-35 square feet for each person in a class.
Depending on your ideal class size, you're looking to have 300 square foot studio for 8-12 students and 600 square feet for 15-20 students.
Most buildings lease by the square foot so look for buildings where the total expense won't be more than 20% of what your massage practice brings in.
Rent or Lease Costs
After you find the ideal location for your target market and kept in mind having the right parking, you'll also want to look at your rent or leasing options for the building. Your ideal spot of town might not be the most cost effective. You will have to look for areas where you can keep your costs down so you're not as stressed in the beginning to grow your studio.
You also want to pick a location where you don't have to do much construction to change the layout. That's too much up front costs and will delay you opening your studio.
Think about using alternative buildings, where you can strike up a deal with the building owner.
If you're just wanting to rent out space from a larger alternative health center, then you can discuss that with the owner as well.
Typically, you have dedicated room and dedicated hours that you can perform massages for your clients when you do it this way.
Ambiance
Speaking of delightful. Aside from all the business aspects of finding a location for your business, you'll also want to make sure the building is right for massages.
What kind of massages will you be offering? Do you need a large space or multiple rooms? How is the acoustics in the building? Is it one big echo chamber? Can you hear all the traffic going by?
Here are a few other questions that you might want to consider if opening a studio in your town will be difficult.
Can You Open a Massage Business in Your Own Home?
Check with your city requirements to see if you can offer massages out of your home. Then, look at converting your garage or an unused room into a massage area.This probably wouldn't be ideal for several years, but when you're just starting out, it might be the best way to get things moving.

If the city allows it, you can create a separate entry that will be used only for the massage clients. This will help you keep a bit of separation from your home and sanity.
Opening a Massage Business in a Small Town
Along with knowing where to open your massage practice, you'll need to know how many people you'll likely need to keep your business going. Typically you'll expect to want between 5 to 50 people coming 1 to 2 times a month in order to stay in business. This is a rough estimate and we'll cover this in more details in another article.
If you live in a small town, is it large enough to meet those back of the napkin calculations? If not, then consider adding in the next two items I'll talk about to keep your business afloat.
Will You Offer Mobile Massages?
Some ways to get around the location issue. If you can't find a suitable location to open your studio, would you consider becoming a mobile yogi and offering your services to local businesses or attractions?
This could set you apart from others where you offer lunchtime classes to businesses who are looking to provide their employees with healthy solutions.
Most larger businesses have a conference room or courtyard that you can set up for each session.
The other benefit of setting up a mobile massage practice is you can put the business on retainer and you would know exactly how much you'll be making each week with each company.